I got out for a little fishing this evening on a little lake close by my home. I went with the intention of trying to catch a true lunker bass. There is no boat launch so I inflated my float tube, grabbed some tackle and a couple rods and headed to the lake. There was ton of scum all over the water so i decided to tie on a Chatterbait. I was working the lily pads and right away I got a couple hits but was unable to connect. I worked my way around the shore to a shallow bay and I caught a big thick pike, I figure it was upper 20's. Unfortunately the dang thing slipped away while trying to get a picture. Oh well. A few casts later I caught another one, smaller, but I got a couple cool pics...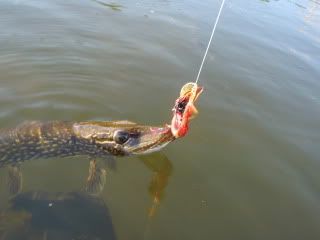 I continued to work the lily pads and scum but no bass. I decided to head to the other side of the lake where the shoreline looked deeper and clear of weeds. I didn't catch any bass right away, but took a few casts with my ultralight and Power Tube and caught a few panfish. Most of the pannies in this lake are stunted, and it is loaded with 'em....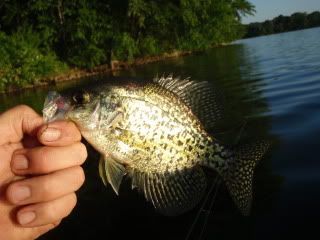 I got tired of that and decided it was better to pursue bigger fish, maybe even a bigger northern. I worked the shore and caught a couple pocket bass, the biggest one slipped away. Yikes! That's twice now! Then it happened AGAIN! Got away! At least I got a picture of one of the dink bass...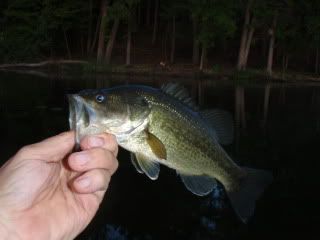 I continued to work toward where I get off the lake. I took a cast toward the middle and BANG! Big fish on! It surfaced. It was a huge pike, much bigger than the other. I fought it for a few minutes, enjoying the battle, and got it on my lap. It was such a beast, very tall and very thick, no doubt from chowing on little sunnies. I didn't have a big enough ruler, so I measured it against my rod. When I got home I was surprised it was 31". I thought upper twenties, but I guess I was wrong. This one didn't get away either! Here's a couple photos I snapped...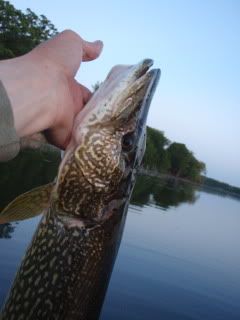 Look at how massive this beast is!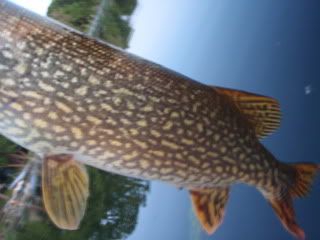 I have discovered it is very difficult taking pictures of big fish in the tube by myself. No lunker bass this time, but that huge pike is one memorable fish!