It's been two weeks since my last post. I got out fishing a couple times between then and now...last thursday on Minnetonka didn't produce even a single fish. Then on saturday I got out with Mike Thompson and fished a couple lakes. We caught a few fish, including some decent gills, but we didn't exactly have a banner day. I was apathetic about the whole thing and didn't even post pics!
Anyway, I went out tonight to the same lake I went to two weeks ago (see prior post) hoping to connect with some bass in the float tube, and connect I did! I was fishing the slop using a Chatterbait and fluke. I had a hit on the fluke but didn't connect and the Chatterbait wasn't really doing anything so I tied on one of those pre-rigged plastic frogs and bang! Big fish on! I knew it was hefty by the way it was pulling me around in the tube. I got it in and it's this huge 'ol bass. It measured 21" long! Check out this slob!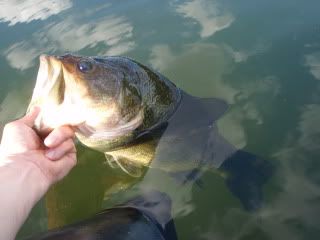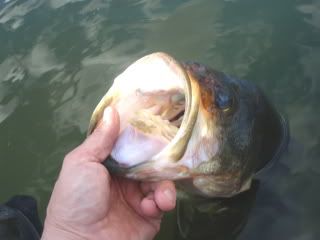 After my heart stabilized I took a few more casts with the frog, almost in the same spot, and slam! Another bass, this one was 18". I didn't get a photo because it slipped out of my butterfingers before I got a picture. I caught a few more bass too, a couple on the Chatterbait and a couple on a white spinnerbait, nothing huge but fun nonetheless. Anyway, that's my report for tonight.
Lot's of good fishing action coming up. Next week me and Lucas are doing a three day camping outing on Annie Battle Lake, hoping to get onto some huge bluegills. Then my family are heading up to the Cross lake area for a week vacation. We'll be staying at a friend's cabin on Pine lake. There probably isn't a whole lot in that lake (probably some good fish though) but I'm hoping to get out and try some of the other lakes in the area. Look for my reports when I return.