Me and Lucas headed out for a three day fishing and camping trip at Glendalough State Park in Ottertail county. We launched my canoe, as it is a "carry in" only site. The first day was the best, fishing-wise and weather-wise. There was a moderate southeast wind and we caught quite a few bluegills in the 9" class tight against the reeds. The next day I awoke to the sound of wind and it was quite overcast with rain not far behind....not good for fishing in a canoe. We did get out and managed a few fish. We also tried some shore fishing spots and caught some bass. Overall the weather pretty much sucked the second and third day with lots of rain and wind, which kept us from getting out. All in all it was still fun, albeit much work because it was a cart-in camping site. Here's some pictures I took of our trip.
This was the biggest gill of the trip @ 9.5"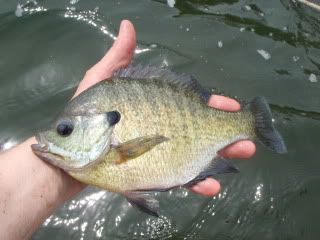 Lucas is "peeing a bluegill"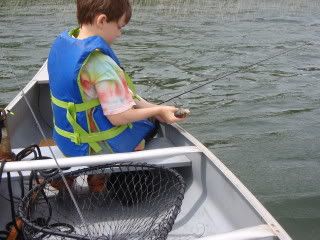 And after the peeing is completed!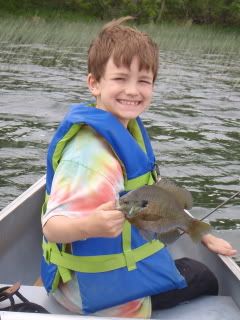 Pretty colors...
Lucas nails a bass...
...and a crappie...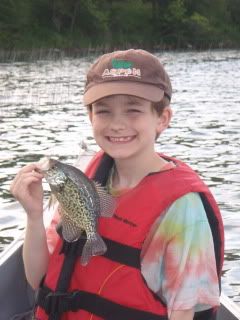 Lot's of these 9 inch gills in this lake...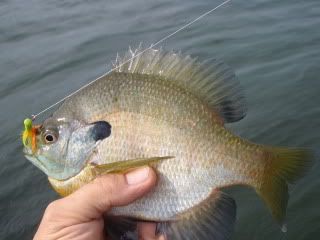 I caught a crappie too....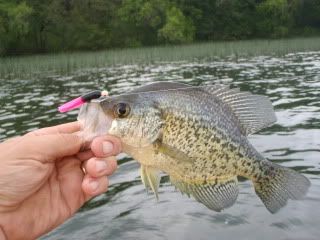 Catching fish off the pier...
It wasn't the most successful trip with all the rain and wind, but at least we didn't get skunked.
The next outing is a big one. Me and my family will be staying at a friends cabin in the Cross Lake area for an entire week. I'll be fishing a few lakes in the area. I look forward to catching more bass to enter into the bass derby. Hopefully I'll get two more so I'll have my five to enter, then I can cull as necessary. Until then, see you next time!