I just spent the last three days walleye fishing on Lake of the Woods (monday, tuesday, wednesday...I got back today which is thursday).
I'll get to the fishing in a little bit.
My buddy Jim Schwandt recently purchased a cabin right there on the lake and invited me up for a few days. The cabin is called "Seafood Lodge" and the idea is that they are fixing the place up and will either rent the place out or have paying clients stay there enjoying the fishing via Jim's expertise. Here's the Lodge...
Jim's and his buddy Dale were up there since opener getting things ready for some clients due up this summer. Jim really knows haw to fish and is a genuine character!!! Here's a picture of Jim chewing on some eggs...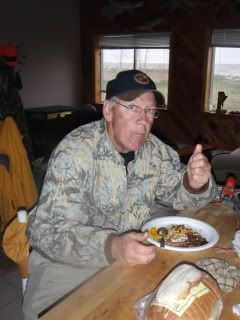 Dale is handy with stuff. Unfortunately, he was working on a chimney and fell off the roof. The good news is that he didn't get hurt too bad. Just twisted his ankle and bruised his elbow. And here's Dale...
Jim's son Dallas was also there. You'll see him in upcoming pictures.
The fishing was excellent and I caught some quality fish. I kept track of all the walleyes over 20". Here's how it breaks down...
21"=1
22"=2
24"=1
25"=3
27"=1
28"=1
I can't tell you how many walleyes I caught under the 20" mark, but I am sure it was between 40 and 50.
Immediately when I got there I was drafted into "chimney repair duty", so I didn't get out fishing until early monday afternoon. I went out with Jim and Dale in a rental boat (Jim rents his boats from various resorts). We were slip bobbering and vertical jigging in about 19' FOW using shiners and frozen shiners. I was using a wide gap short shank Fireball jig in either gold, chartreuse, or glow pink. Winds were fairly mild out of the SE.
Good news and bad news.
The good news?
On this first outing I caught my biggest walleye @ 28". I also caught a 25", a 24", 2@22" and a 21". These are nice fish!!! I didn't catch a single fish under the slot.
The bad news?
Well, the first walleye I popped was the 28 incher and I couldn't locate my camera! Jim took a picture of that and the 25 incher with his Blackberry, and right now I am waiting for the pictures so I can put 'em up. So we fished and Dale and Jim caught some eater walleyes. Dale caught a hog @ 26" too. No pic. He kept the bonus pike....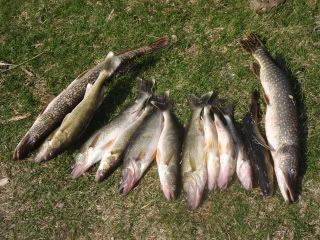 When I got back to the cabin I searched all my stuff. Couldn't find it. So I went back to the boat, searched again, and found it in my tackle bag which was in the boat! Yikes...I thought I forgot it at home!
UPDATE: Here's the photo of the 28" walleye Jim took on his Blackberry. Nice picture!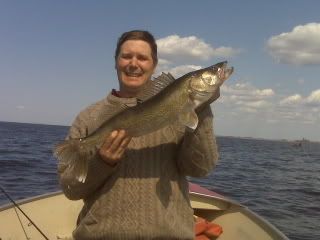 Later that evening we met up with Jim's son Dallas and went out fishing with him and Jim. I didn't do as well as my first time out but Jim and Dallas put the hurt on the fish with lots of eaters. Jim caught this 27" walleye. The other guy is Dallas...
Jim also got this sumo perch @ 13"!
I got a perch too, but it was probably only 11"...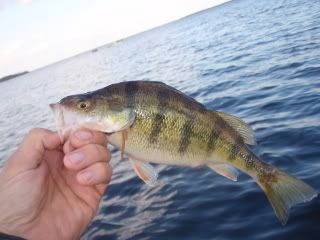 Here's some pics of the stringer of fish we brought in that night...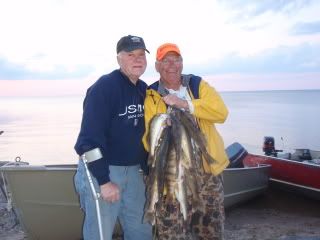 The next morning I wanted too get out fishing really bad but Jim and Dale were busy with stuff for quite awhile. Me and Jim Finally got out late morning for about an hour but didn't catch much. We went back to the cabin and Jim told me I could take the boat out myself so I did. it was overcast and the winds were strong out of the SE. I was vertical jigging shiners and frozen shiners. The first walleye I got was this 27" beast...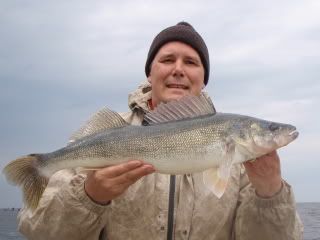 Not long after that I caught this one @ 25"...
And then ANOTHER one @ 25"! (These pictures are not the best. I had a tripod in a wavy boat on a windy lake and I wanted to release the fish ASAP)
I caught a few more fish in that amazing couple hours but didn't keep anything. I got out with Jim for the evening and caught more walleyes. Once again they were very active and willing to bite. Here's a big fat northern Jim caught. It was 38". It looked really beat up like it got ran over by a boat or something....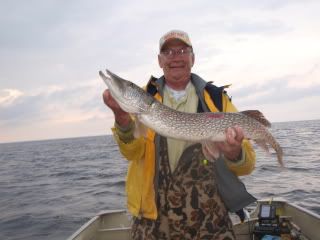 The next day the winds were screaming out of the SE. You can't fish on LOTW with winds like that. Fortunately, Jim knows many of the resort owners around the area so he worked out a deal so I could go fishing that day. He brought me over to Wheeler's Point Resort on the Rainy River about 11am on wednesday for some dock fishing. Jim was busy with various tasks so he just dropped me off and checked in with me every now and then. Like I said, the winds were nasty, blasting me head on! Here's how things looked at the end of one of the docks...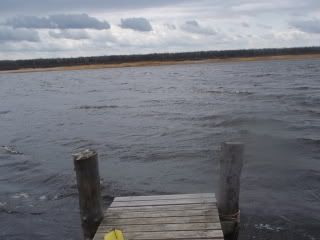 I also had to deal with a strong current to boot. First I tried dropshotting with no success. Then a three-way rig...nada. Threw a crank too with no hits. Jigging didn't work either. I decided to try lindy rigging. I put on a three foot snell with floater bead and heavy 1 oz. bell sinker. On the business end I put a live shiner. I casted out and slowly dragged it back. After a couple casts bang! Fish on! Walleye, about 17"...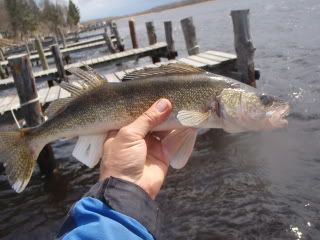 (Notice the blurry spot on the right side of the picture. It shows up on the rest of the pictures. Apparently the lens on the camera has a spot on it and didn't notice it until uploading images. Talk about disappointing!)
Well once I got dialed in on something that worked, I continued to pound the walleyes on the dock. You really had to pay attention while dragging the Lindy Rig because there was alot of hangups on the bottom and the bite was very, very subtle. I fished there for seven hours that day putting up with rain and fierce winds, but it was worth it because I caught between 30 to 40 walleyes, all males. Many misses too. Nothing bigger that 18", but nothing smaller that 15" either. All caught and released. Here's a look at my catch...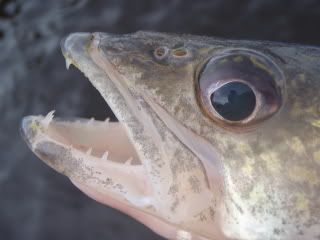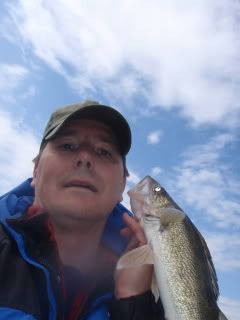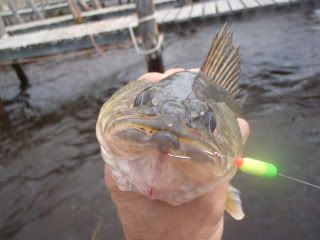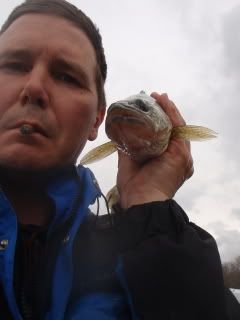 Anyway, this morning the winds were now raging out of the NW. Frontal passage had occurred, and there was ice and snow outside. Fishing was done and time to go home. Jim is the nicest guy and he said I could use his cabin any time I want, as long as it's not being used. Pretty cool deal!
I'll leave you with a beautiful sunrise...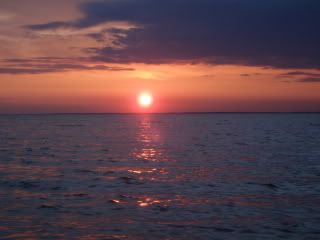 And a stunning sunset...