I was going to go to Waconia for a little fishing after work today chasing walleyes, but the guys at Wayzata Bait said walleyes were being caught on main lake structure of Minnetonka in 18-19 FOW. Minnetonka is never an easy lake to crack for walleyes, at least for me, but I decided to give it a try anyway. Winds were light out of the north and it was an absolutely beautiful night to be on the lake! I started jigging with a Northland Fireball jig and fathead and popped this little bass right away...
Followed by this rather small crappie...
I also caught a 2lb. northern but didn't get a picture, figuring I would probably get something bigger. I didn't. So I fished around quite a bit more trying some different presentations...vertical jigging, casting a Shad Rap, and Lindy rigging, but couldn't catch anything; I wasn't even marking any fish on my graph in that 18-19 foot range. Probably should have gone to Waconia!!! Fishing this area of Tonka in the late summer and fall always produces a few slab crappies, so I decided to put away the walleye gear and chase crappies on the deep weed edge. I know that this area of the lake can produce some monster slabs; I have never caught a crappie over 13.5", so I was looking to do better than that. I anchored up in about 13 to 15 FOW and casted my Culprit paddletail and started catching quite a few crappies. Unfortunately no monsters were caught, but many in the 8-9" class, and also 2-3 in the 10-11" class. Here's one of the bigger ones...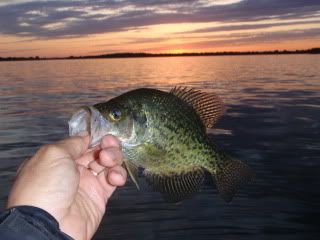 It was getting dark and they suddenly shut down. I probably could have caught more with a glow Power Minnow but decided to go in. Not the greatest outing, (not the greatest fishy pics either) but at least I didn't get skunked!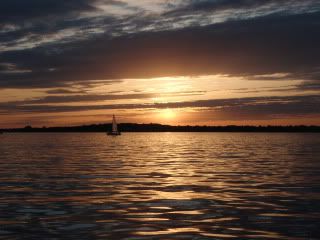 Next on the fishing agenda is a family camping trip at Glendalough State Park for the Memorial Day weekend. The weather looks like it's going to behave so I anticipate some excellent fishing. Hopefully I'll have lots of pictures to post. See ya then.