Tuesday was the second of my time back days from working the weekend, so I decided to get up real early again and head west and try some new lakes. The day started out overcast and already the wind was making it's presence known out of the south. I knew I was in for a windy day. The first lake I went to was a small lake that had a reputation for monster crappies. So I launched and headed to the north end. I was greeted by this goose perched on a beaver's house, obviously suffering from illusions of grandeur...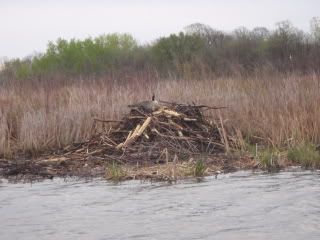 I started out in the shallows where I didn't get much action except for this puny sunfish. Looks like something tried to take a bite out of it....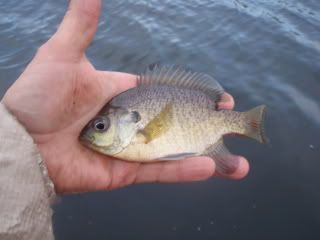 As I was moving to the front of the boat, I accidentially stepped on the rod tip of my Shimano Convergence and snapped it off!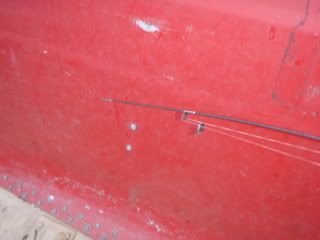 It looks like an easy repair and probably cost under $10, so no big deal really, but serves as a reminder to be careful!
So anyway I tried deeper and started finding active sunnies and white crappies at about 8.5 feet of water. Sunnies were all small. No monster crappies either. Largest was about 11" long. You could actually vertical jig for them. Power tubes did the trick. Here's a few fish...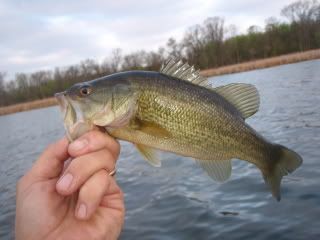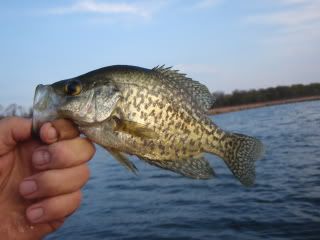 After fishing there for about three hours I decided to pack it up and explore another lake, a bigger lake further west. I don't doubt that big crappies were in that first lake I fished, I just wanted to survey and get a feel for those new lakes and determine whether I would ever go back. On the way to lake #2 I passed by this tiny lake about 50 acres max. that had a public access. I thought about going there instead of the bigger lake because of the wind. Sometimes the smaller unknown lakes are real gems! But I decided to pass it by and perhaps hit it on the way back if things didn't work out at the other lake. When I got there the winds were barreling out of the south into the north shore. I launched my boat but soon realized the folly of trying to fish there, so I loaded my boat and headed back to that small lake. As I headed to the north side I soon discovered it had a deep 20' plus hole in it. That was a good sign! I tried in a small shallow bay, nothing, and was beginning to wonder if there were any fish in there. Then I went out a little deeper and finally caught a fish, a small bass. Note the cleaved tail...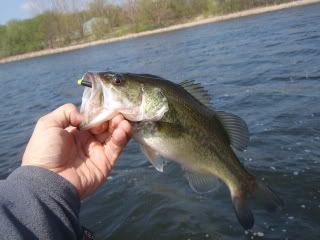 So there were fish in the lake after all! I couldn't catch anything more out deeper so I started to work the shoreline. In one spot I caught a couple small gills and a white crappie....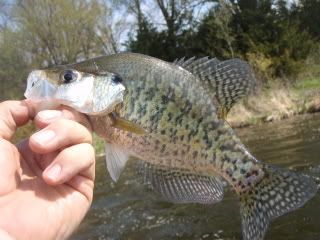 I also caught another bass, 2-3 lbs out a little deeper...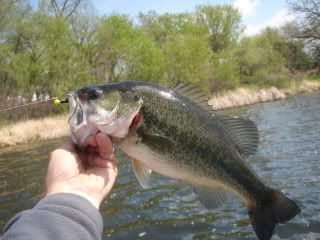 I worked along the shore and didn't catch anything else, but at least I took the time to try something new and found some fish! After fishing that lake I checked the DNR report and discovered that it is subject to frequent winterkills, which affects the size of the fish in there.
After fishing there for about an hour and a half and not too impressed with the fishing, I decided to load the boat and try yet another small lake just a couple miles down the road. It was probably two hundred acres. The launch was "rustic" with no dock. I launched and headed to the north side when suddenly, bang! Smack! Grind! I hit a bunch of rocks! My motor still worked but I wasn't happy because this area of rocks was not marked. I fished the north side. It was really shallow with no weeds really. And there were carp jumping all over the place. Didn't catch a thing so I wanted to try along the north shore outside the bay. I headed out, carefully this time, but still managed to find the shallow rocks, which seemed to be over quite a broad area. At this point I was fed up with that lake, loaded up and went home.
I will definitely try lake #1 again. I will try lake #2 when conditions allow. There are supposed to be big gills in there. Lake #3 is a maybe. Maybe I'll fish there again. Sometimes you can't tell if the lake is any good from one visit. Lake #4? I am still mad at that lake! I doubt very much I will return!!!